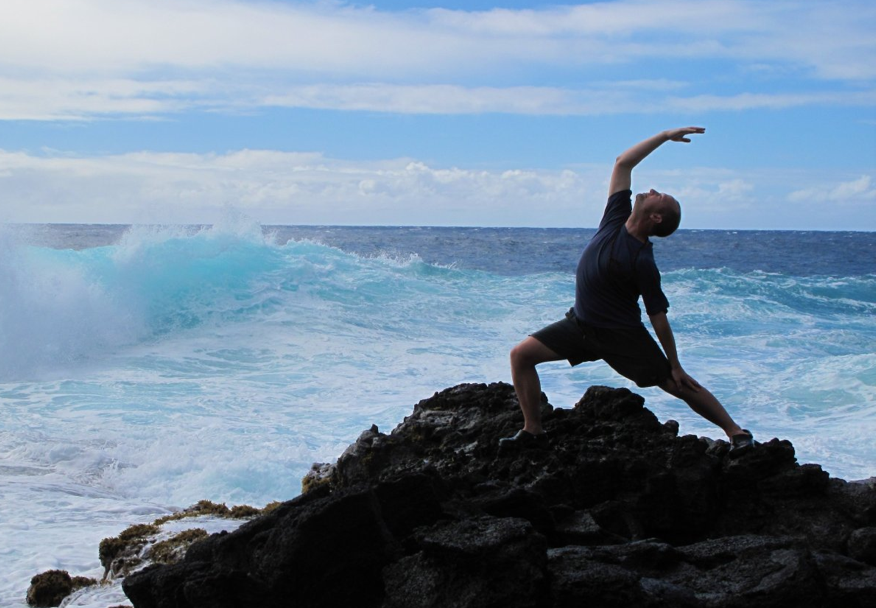 An Unforgettable ~ 4 nights and 5 Days in stunning natural beauty.
Take everything you treasure about your Yoga and Art practice, then throw in an epic and healing location (Kalani Oceanside Resort on the Big Island of Hawaii) thought provoking, inspiring, and transformative workshops, delicious organic meals, magical bonfires, hikes to sacred places, great conversations and connections and much more. Sign up today 
All inclusive Yoga and Retreat. Space is very limited. To register E-mail Lisa and Ceylan at art4allpeople@gmail.com or call us at 310-745-2476 or click on the links below.
New Moon Art and Yoga Retreat on the Big Island of Hawaii at the Kalani Retreat Center, an Oceanside Sanctuary
with Lisa Rasmussen MFA, Ceylan Huyla MA, and Yogi Will Donnelly 
March 30th, 2014- April 3rd, 2014
A sojourn of rejuvenation and discovery
Awaken and rekindle your ancient inner wisdom through YogART, dream-work/art, intuitive painting, personal mythology, ritual , sacred sites, swimming with dolphins, incredible food, and adventure. All illuminated by the intersection of the creative, the sacred, and the healing spirit of Aloha at one of the most soulful venues on the Big Island.
Join us for five extraordinary and "supernormal" days of transformation. Yoga and Art is 4 All People.
YogART Retreat Includes:
Accommodations: 4 nights and 5 Days at Kalani Oceanside Resort
Meals Provided:-Sunday: Dinner-Monday: Breakfast/Lunch/Dinner-Tuesday Breakfast/Lunch/Dinner-Wednesday: Breakfast/Lunch/Dinner-Thursday: Breakfast
3 YogART  workshops (Yoga and Intuitive/Expressive Painting)
1 Creative and Dream Journal workshop
3 ward winning professional instructors
Individual Coaching and Mentoring around artwork and process
Learn new art techniques through play and practice
Develop a Dreamwork Tool Kit- using Jeremy Taylor's techniques
Learn Creative Journaling Techniques and simple guide
Vision Board Yoga and Art workshop. Create a map of your goals and intentions (personal growth, health & healing, creativity, and business)
Connect and Learn with Nature through Eco Art
All Art Supplies: inclusive of a journal, archival paper, canvas, professional artist tools, acrylic paints, pastels, and other mediums
All your paintings and your journal are yours to wrap, take home, display, and to use a tools for your well-being
An Art of Life guide book to continue your Yoga and Art practice
2- 3 Day Trips Volcano, Swimming with Dolphins, Bluffs Mediation
Last night Bonfire celebration
Additional Activities to Enrich Your Experience:
Yoga classes offered throughout the day at Kalani
Treat yourself to a massage and wellness packages at Kalani
What is YogART?
It is a new and integrative five-fold process, created by Ceylan Hulya MA and Lisa Rasmussen MFA, which includes yoga, stream of consciousness mark-making, creative visualization, transformative art-making and dialogue. The fusion of all five allows creativity to flow abundantly; opening life to infinite possibilities.
Our Retreats honor and foster the intrinsic and empowering creative source within us all. We openly encourage courageous self-exploration through direct experience and reflection. The ultimate intention of our Retreats is to reveal that Art and its amazing process is everyone's birthright. When activated, Art has the ability to transform our lives as well as the potential to transform the world we live in.
Kalani Oceanside Retreat is the ultimate destination for restoration, relaxation and renewal. In addition to our daily transformative experiences, connect with the mystical land and sea, enjoy the pool, hot tubs and sauna. Get a massage. Enjoy three healthy and abundant meals every day on the open air dining lanai.
Students of all levels of art and yoga practice, including beginners to experts are encouraged and welcome. It doesn't matter if you've never picked up a paintbrush or never unrolled a yoga mat: art and yoga are for ALL people! 
For more information about YogART, you can find a provocative map of the practice in Art 4 All People's book~ YogART:The Art of Transformation  
Itinerary:
March 30th: Connect and Settle In to Kalani. The Big Island is also known as "the doorway to the other side". The energy of land is palatable. Today is all about settling in and connecting.
Day 1: Arrival
4:00 Welcome package and settling in
6:00-7:30 PM Dinner
7:45 -9:45 PM
-Welcome Circle, Introductions, and Art Making
-Make your own Creative Dream Journal-This journal is for inspiration and creative sparks, as well as it is a place to record your night dreams
-Create New Moon Intentions & Ritual Art Making (Letting go and Bringing in)
-Making Herb Bundles to offer to Pele on 3/31/13
(Image from Kalani's Blog)
Day 2: March 31st theme is PELE:  Pele's lava is a powerful symbol and the foundation for new beginnings. Today, we will be visiting Volcanoes National Park.
 7:30 – 8:30 AM Breakfast
10:00 -11:45 AM Check in Circle – Dream Work/Art
12:00 – 1:00 PM Lunch
1:00- 4:00pm YogART (Letting go and Bringing in) This is a recharging Yoga and Art class focusing on the seven Chakras. You will chose one do create your art around.
5:00 PM Night Trip to Pele, Mouth of the Volcano/Petroglyphs/and the Live Lava fields of Volcanoes National Park. Ritual to encourage letting go of what is no longer serving you, and bringing in what you need. Herb bundle and New Moon Ritual offerings to Pele, symbolic goddess of the islands and volcano.
6:30 – 7:30 PM – Picnic dinner (to-go provided by Kalani) at Petroglyph site or Ocean side Lava Fields.
Return by 10:00pm
Day 3: April 1, 2013 Swim with the Dolphins
7:30 AM Breakfast to Go (provided by Kalani)
7:45 AM Leave for Hokena Beach to swim with dolphins (2 ½ hour trip from Kalani)
10:00 AM – Arrival at Hokena Beach to swim with the dolphins.  - Make a sacred connection with the dolphins. Please note that these are wild dolphins and so there is not a 100% guarantee.
12:30 – 1:30 PM Picnic on the Beach
3:00 – Return to Kalani. Free time upon arrival back at resort
6:00 – 7:30 PM Dinner
7:30 – 10:00 PM Chakra YogART : Manifestation and Clarifying Yoga and Art class creating a vision board for your goals, wants, and needs for your business, interpersonal, spiritual, and big dreams. You will create a map through collage, watercolor painting, and creative writing.
Day 4:  April 2nd ~ Eco Art and Meditation to Mama Ocean. Today we will be visiting MacKenzie State Park in the morning for a group guided, creative visualization on the bluffs – fuel for your creativity in the afternoon!
 7:30 – 8:30 AM Breakfast
9:00 AM – 1:45 PM  MacKenzie State Park: Group Eco Art Making and Meditation on the Bluffs/Tide Pools/Black Sand Beach/Turtles
12:00 – 1:00 Lunch Bag
3:00 – 6:00 PM YogART This is an Yoga and Art class about play and fostering your inner child/artist with intuitive painting and exploration Medium is canvas and acrylic paint. You will learn simple painting techniques and create some meaningful to adorn you living space, as well as your painting is a marker of your experience.
6:00 – 7:30 PM Dinner
8:00- 10:00 PM Bonfire: Celebration Party and Presentations
Day 5: April 3rd, 2013
 7:30 – 8:30 AM Breakfast
9:30 -11:30 AM Closing Circle with Yoga Stretching/ Dream Art Journal Presentation
12:00 – 1:00 PM Lunch
 Drop off at Hilo for afternoon evening flights*
Airfare to/from Hilo and Kona airports, transport to/from Kalani, tips, and extra excursions and adventures are not included. A non-refundable deposit of $300 is required to reserve your space. We do offer drop off the Hilo Airport on 4/3/13 please inquire for rates.
Registration Information
Lisa Rasmussen: Phone: 415.377.4956 /  E-mail; art4allpeople@gmail.com. Click HERE to finish your registration with your Paypal confirmation #. After we receive this we will send you our registration packet. You can view pictures and information about the accommodations at Kalani HERE.
(Image from Kalani's Blog)
"YogART is an amazing retreat of mind, body, and spirit. A beautiful way to connect within and also reach out ~to be lifted out of  oneself and to see things in a new way. This (Art 4 All People) is a "home" of transformation and I believe that if we all connect with who we really are we can change the world. Thank you YogART!" Cathy Salser  (Founder and Executive Director of Window Between the Worlds)
Extra 10% off the YogART Retreat if you and a friend attend.
Registration
Cancellation Policy:
$300 non-refundable deposit required to register
Full balance for retreat due 60 days prior to trip
No refund on deposits
No refunds on retreat for cancellation 20 days or less from start date Pre register and reserve your space below.
____________________________
Fully Register and Pay Below or call Ceylan at 310.745.2476
Tree House Rooms are not actually in a tree, but you may well feel as if they are!
The Tree House is nestled under the cool shade of a large Monkeypod Tree near the Rainbow Room. They are five spacious units, on two levels, enhanced by views of pasture, grazing horses, and glimpses of sea through a coastal grove of native Kamani (mahogany) and coconut palms. 
All Inclusive Retreat and Tree House single lodging $1960
Tropical Four double bungalows (eight rooms) are located between the Rainbow Room and the Tree House. Each has high, slanted ceilings and tall screened windows, a Queen bed, a futon, private bath, fan, mini fridge. Approximately 225 square feet.
All Inclusive Retreat and Bungalow lodging for two  $1640 each
All Inclusive Retreat with Bungalow lodging for single  $1880
The three two-level lodges or Hales (pronounced Ha'-lay, Hawaiian for "house") house several rooms on each floor with access to common areas on both levels which are sometimes used for classes. They are on the central lawn close to the Dining Lanai.
Rooms are approximately 200 square feet with twin, queen, or king beds, shared or private bath, fan, and a garden vista. Hales 3 & 4 include access to adjoining studio with a limited kitchen (sink, refrigerator, microwave) and an upstairs meeting area. Hale 1 has no kitchen facilities but features garden lanais (verandas), hammocks, and native ohia floors.
All Inclusive Retreat with Lodge lodging for four $1600 each person

All Inclusive Retreat with Lodge room single lodging $1800
All Inclusive Retreat: Commuter (No lodging) $800
Getting there
Flying to Hawaii, "The Big Island"
Option 1: Fly to Hilo (ITO)
Fly to Hilo from other island airports such as Honolulu on Oahu, Kahului on Maui, Lihue on Kauai, or Kona, here on the west side of Hawaii, the Big Island. Several flights are offered daily with Hawaiian Airlines (1-800-367-5320) and go! Airlines (1-888-IFLYGO2). There is one direct flight from Los Angeles everyday on United Airlines (1-800-864-8331).
Kalani is only a 45 minute drive from the Hilo airport. There is also very limited public transportation via the Hele-On county bus that leaves from downtown Hilo. This is a slow, but inexpensive option, that comes right to Kalani if you can coordinate schedules. For more info visit the Hele-On bus website.
Option 2: Fly to Kona (KOA)
Kalani is a 2.5 – 3 hour scenic drive from Kona, halfway around the Island of Hawaii, "the Big Island", via either the northern or southern routes, or the newly finished Saddle road passing Mauna Kea.
Transformative Hosts
Our teachers are award winning inward guides: handpicked for their heart-led approach and commitment to the transformative power of creativity
(Lisa Rasmussen MFA and Ceylan Hulya MA facilitating: YogART-The Art of Transformation Workshop at the University of John F. Kennedy in the Arts and Consciousness Program)
Ceylan and Lisa are two Renaissance women who truly believe in the intrinsic power of ART to transform, empower, and to heal.
Through YogART, Intuitive Painting, and Dream work, Lisa and Ceylan reveal that Transformative Art is a powerful creative process for self-care and personal growth for individuals and communities. It is a holistic practice, which is beneficial for the mind, body, and soul. Both are professional artists and educators. Together they have taught hundreds of individuals at university level and at their private Art 4 All People art studio in Malibu and have witnessed many empowering breakthroughs through the process. They both have in-depth experience in facilitating Transformative Art to all levels of experience from elders, to adults, families, to youth, and to underserved special needs children
(Image from Kalani's Blog)
Ceylan Hulya is the Co-founder, Manager, Curator, and Transformative Educator of AY Atelier Art Online Gallery and Art 4 All People in Malibu.  She also is an alumnus of John F Kennedy Masters in Transformative Arts in the Arts & Consciousness Program. In March of 2013, she was awarded the Alumni of the year for her work at Art 4 All People from John F Kennedy University for her deep service to the Arts and Consciousness profession and community She was born in Izmir, Turkey. She is a professional transformative artist, whose work explores the mediums of intuitive painting, installation, video art, and performance art.  Hulya's work can be seen at Art 4 All People and Ay Atelier Art.COM She is a Turkish entrepreneur. She is the Co-creator of Innerscape: A Day of Art, Play, and Transformation.
Lisa Rasmussen Transformative Artist, Educator, Curator, and Art Advocate, who truly believes and embodies the notion that ART can change and heal the world. 
Rasmussen is the Executive Director and Co-Founder of Art 4 All People and AY Atelier Art.com. an international Sanctuary for Arts and Consciousness in Malibu and in virtual reality.
Also she is the Co-Founder and the Co-Director of the non-profit Art is Moving and the 3rd annual ARTbreak Day. Art Break Day is community art reach event that offers 1000′s of people the means and the space to connect with their community via the art-making process.
In March of 2013, she was awarded the Alumni of the year for her work at Art 4 All People from John F Kennedy University for her deep service to the Arts and Consciousness profession and community. Additionally, Lisa pioneered an award-winning expressive art program for emotionally traumatized and abused youth and developed a professional art gallery for the residents of Lincoln Child Center, a mental health facility in Oakland. She has also taught intuitive and expressive Art for over ten years to elders, at-risk teens, and has been an art coach to adults. In 2008, Rasmussen was awarded the prestigious Graduate Student of the year from John F Kennedy, Holistic Studies Program for her transformative work with the children at Lincoln and for her MFA Graduate solo exhibition. Lisa is also a professional Artist. Her paintings are her spiritual practice. Her current work is being exhibited in various galleries in Los Angeles and in San Francisco. Her latest interview is on the Arts and Healing Network podcast. HERE
The Yoga in YogArt with Will Donnelly is a nationally recognized, certified yoga teacher. He has been a true pioneer in the field of yoga, and co-created and co-hosted the yoga–reality series Guru2Go, which debuted on fit TV, part of the Discovery family of channels.
Having taught in some of the top studios in Los Angeles, Will offers a profoundly energizing and healing form of yoga and meditation, and takes students on an inner journey like few others. He is KRI-certified (Kundalini Research Institute) and was trained at the nationally renowned Golden Bridge Yoga Studio in Los Angeles.
With over 15 years experience practicing and teaching yoga & meditation, Will has taught in dynamic locations such as: the Cannes Film Festival (Official Yogi/American Pavilion) in France, Legoland – California, UCLA Medical Center, Cedars-Sinai Medical Center Cancer Center, the Santa Anita Race Tracks in Los Angeles, and from construction sites to dentist offices, to name just a few.